<![if !vml]>

<![endif]>
<![if !supportEmptyParas]> <![endif]>
July 13, 2006
<![if !supportEmptyParas]> <![endif]>
Globally Collaborative Innovation Network
with
Global University System
<![if !supportEmptyParas]> <![endif]>
Takeshi Utsumi, Ph.D.
<![if !supportEmptyParas]> <![endif]>
Economic interdependence among nations and cultures is spawning a global economy. Globalization also highlights clashes of divergent cultures and belief systems, both political and religious. If global peace is ever to be achieved, global-scale education, with the use of the modern digital telecommunications, will be needed to create mutual understanding among nations, cultures, ethnic groups, and religions. The Internet is the future of telecommunications and can be a medium for building peace.
<![if !supportEmptyParas]> <![endif]>
Global University System (GUS) aims to build a higher level of humanity with intercultural understanding across national and cultural boundaries for global peace. GUS is a worldwide initiative to create advanced telecom infrastructure around the world for global e-learning and e-healthcare/ telemedicine. GUS aims to create a worldwide consortium of educational and healthcare institutions to provide all world citizens with special emphasis on the underdeveloped world with access to 21st Century education and healthcare via broadband Internet. The philosophy of GUS is based on the belief that global peace and prosperity would only be sustainable through education. Education and job skills are the keys in determining a nation's wealth and influence. The aim is to achieve "education and healthcare for all," anywhere, anytime and at any pace.
<![if !vml]>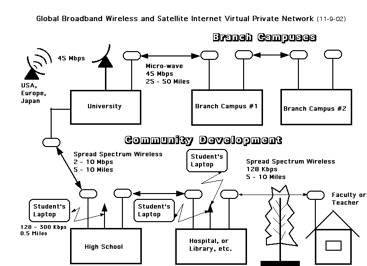 <![endif]>
<![if !supportEmptyParas]> <![endif]>
GUS helps higher educational and healthcare institutions in remote/rural areas of developing countries to deploy broadband Internet in order for them to close the digital divide. Learners will be able to take their courses from member institutions around the world to receive a GUS degree, thus freeing them from being confined to one academic culture of a single university or country. These institutions also act as the knowledge center of their community for the eradication of poverty and isolation through the use of advanced Information and Communications Technologies (ICTs). These learners and their professors from participating institutions will form a global forum for exchange of ideas and information and for conducting collaborative research and development with emerging global GRID computer network technology.
<![if !supportEmptyParas]> <![endif]>
GUS has group activities in the major regions of the globe in partnership with higher learning and healthcare institutions. These will then connect the universities with secondary and elementary schools, libraries, hospitals, local government offices and NGOs, etc., through broadband wireless Internet at drastically discounted rates. Those institutions affiliated with GUS become members of the GUS/UNESCO/UNITWIN Networking Chair Program located at the University of Tampere in Finland. GUS projects are now starting in Nigeria, Ghana, Sierra Leone, Egypt and Ethiopia in Africa, and, Mongolia and Siberia in Asia and have received inquiries from several other countries for review.
<![if !supportEmptyParas]> <![endif]>
Globally Collaborative Environmental Peace Gaming (GCEPG) project with a globally distributed computer simulation system, focusing on the issue of environment and sustainable development in developing countries, can be used to train would-be decision-makers in crisis management, conflict resolution, and negotiation techniques basing on "facts and figures." It will also help decision makers construct a globally distributed decision-support system for positive sum/win-win alternatives to conflict and war. The idea involves interconnecting experts in many countries via the global Internet to collaborate in the discovery of new solutions for world crises, such as the deteriorating global environment, and to explore new alternatives for a world order capable of addressing the problems and opportunities of an interdependent globe. With global GRID computer networking technology and Beowulf mini-supercomputers using cluster computing technology we plan to develop a socio-economic environmental simulation system and a climate simulation system in parallel, both of which will be interconnected on a global scale. GUS will supply game players, simulationists and technical support from around the world.
<![if !supportEmptyParas]> <![endif]>
Global Distributed Climate Simulation System
<![if !vml]>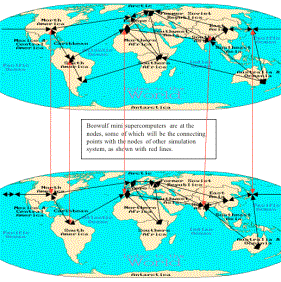 <![endif]>
Global Distributed Socio-Economy-Environmental Simulation System
<![if !supportEmptyParas]> <![endif]>
Gaming/simulation is the best tool we have for understanding the world's interwoven problems and the solutions we propose for them. Systems analysis for systemic change at the global level is a precondition for any significant resolution of today's global scale problems. The understanding gained by scientific and rational analysis and critical thinking based on 'facts and figures' would be the basis of conflict resolution for world peace and, hence, ought to provide the basic principles of global education for peace.
<![if !supportEmptyParas]> <![endif]>
As a powerful consequential extension of our GCEPG project, we will foster creativity of youngsters around the world. Researchers in developing countries can co-work with colleagues in advanced countries to perform joint collaborative research with use of virtual laboratories for experiential/ constructive learning and creation of knowledge through the global GRID technology, thus forming Globally Collaborative Innovation Network (GCIN).
<![if !supportEmptyParas]> <![endif]>
The growth of advanced economies is driven largely by knowledge workers, such as scientists, engineers, managers, professionals and artists. We now need to train the youth of the world to become world class knowledge workers with global e-learning and create an environment in which they can collaborate with the use of advanced ICTs and GRID networking technology. This is because the entire global economy increasingly revolves around innovations that flow from the creative classes.
<![if !supportEmptyParas]> <![endif]>
Our projects focus on the content delivery through broadband Internet to construct information and knowledge societies, and to bridge the knowledge and digital gap that exists between developed and developing countries, as promoting free exchange of ideas and knowledge; to maintain, increase and disseminate knowledge through our work in education, sciences, healthcare, culture and communication. A GUS education thus hopes to promote world prosperity, justice, and peace, based on moral principles rather than political or ideological doctrines.
<![if !supportEmptyParas]> <![endif]>
Financing GUS
GUS projects will combine the Japanese government's Official Development Assistance (ODA) funds and Japanese electronic equipment with the Internet technology and content development of North America and Europe.
<![if !supportEmptyParas]> <![endif]>
Conclusions
The GUS program is a comprehensive and holistic approach to building smart and creative communities in developing countries for e-learning and e-healthcare/telemedicine. Initiatives are underway to create the necessary infrastructure and educational liaisons, and some near-term educational access is expected.
<![if !supportEmptyParas]> <![endif]>
GUS and GCEPG are clearly ambitious programs that cannot be achieved by any one group, university, or national government. The programs require substantial collaborative contribution of ideas, expertise, technology resources and funds from multiple sources. Those who value the vision of GUS and GCEPG are invited to join this great and noble enterprise.
<![if !supportEmptyParas]> <![endif]>
<![if !supportEmptyParas]> <![endif]>
<![if !vml]>

<![endif]>Dr Takeshi Utsumi is the Founder and Vice President for Technology and Coordination of GUS and the Chairman of the GLObal Systems Analysis and Simulation Association in the U.S.A. He is the 1994 Laureate of the Lord Perry Award for Excellence in Distance Education. He has been lecturing, consulting and conducting research at many universities, governmental agencies, and large firms in Japan, the USA and other countries.
<![if !supportEmptyParas]> <![endif]>
<![if !supportEmptyParas]> <![endif]>
<![if !supportEmptyParas]> <![endif]>
<![if !supportEmptyParas]> <![endif]>
<![if !supportEmptyParas]> <![endif]>
<![if !supportEmptyParas]> <![endif]>
<![if !vml]>

<![endif]>Officers of GUS
<![if !supportEmptyParas]> <![endif]>
<![if !vml]>

<![endif]>P. Tapio Varis, Ph.D., Acting President, (University of Tampere, former rector of the United Nations University of Peace in Costa Rica)
<![if !supportEmptyParas]> <![endif]>
<![if !supportEmptyParas]> <![endif]>
<![if !supportEmptyParas]> <![endif]>
<![if !supportEmptyParas]> <![endif]>
<![if !supportEmptyParas]> <![endif]>
<![if !supportEmptyParas]> <![endif]>
<![if !supportEmptyParas]> <![endif]>
<![if !supportEmptyParas]> <![endif]>
<![if !supportEmptyParas]> <![endif]>
<![if !supportEmptyParas]> <![endif]>
<![if !vml]>

<![endif]>Marco Antonio Dias, T.C.D., Vice President for Administration, (former director of Higher Education of UNESCO)
<![if !supportEmptyParas]> <![endif]>
<![if !supportEmptyParas]> <![endif]>
<![if !supportEmptyParas]> <![endif]>
<![if !supportEmptyParas]> <![endif]>
<![if !supportEmptyParas]> <![endif]>
<![if !supportEmptyParas]> <![endif]>
<![if !supportEmptyParas]> <![endif]>
<![if !supportEmptyParas]> <![endif]>
<![if !vml]>

<![endif]>Dr. Pekka Tarjanne, (former Director-General of the ITU)
<![if !supportEmptyParas]> <![endif]>
<![if !supportEmptyParas]> <![endif]>
<![if !supportEmptyParas]> <![endif]>
<![if !supportEmptyParas]> <![endif]>
<![if !supportEmptyParas]> <![endif]>
<![if !supportEmptyParas]> <![endif]>
<![if !supportEmptyParas]> <![endif]>
<![if !supportEmptyParas]> <![endif]>
<![if !supportEmptyParas]> <![endif]>
<![if !supportEmptyParas]> <![endif]>
<![if !supportEmptyParas]> <![endif]>
<![if !vml]>

<![endif]>Dr. Federico Mayor, (President of the Foundation for Culture of Peace and a former Director-General of the UNESCO)
<![if !supportEmptyParas]> <![endif]>