<<20110514>> Archived distributions can be retrieved at; <http://tinyurl.com/2fzx23e> This archive includes a html version of this list distribution and its MS/WORD version with its filename as "year-month-date.doc." You can also access all of its attachments, if any.

Prof. Mbomba Nseu Bekeli, Ph.D.
Principal Project Director
General Director of CSB
Kinshasa University
Faculty of Sciences
B.P. 190 Kinshasa 11
D. R. of Congo
GSM: +243-8957 34 3 59
mbomba_b@yahoo.fr

Francisco (Paco) Bozzano‑Barnes
Director
TENURE & ECOLOGY
888 Main St Apt. 345,
New York, NY 10044, USA
+1 212 652 5697
francisco@tenureecology.com
www.tenureecology.com


Dear Mbomba:

(1) It was my great pleasure to have met with you again at Paco's house this afternoon.

(2) As said, pls contact your people of the National Research and Education Networks (NRENs) in DRC.

Following person may know them,
Margaret E Ngwira
UbuntuNet Alliance
P O Box 2550
LILONGWE, Malawi
Phone/Fax 265 1 754 535
mengwira@ubuntunet.net
www.ubuntunet.net
www.global-project.eu
www.erina4africa.eu
<![if !vml]>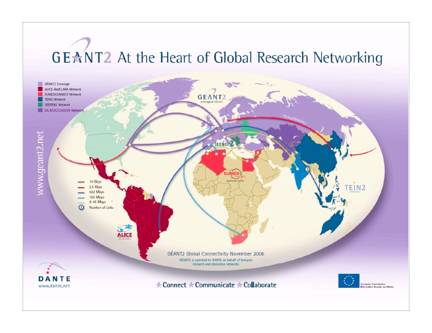 <![endif]>
<http://tinyurl.com/3os6cbz>
(3) As you see (ATTACHMENT I) below, they are start having broadband optical fiber net in African continent.

As mentioned to you, I would like to have them to be connected to GLORIAD <http://www.gloriad.org/>, also.
<![if !vml]>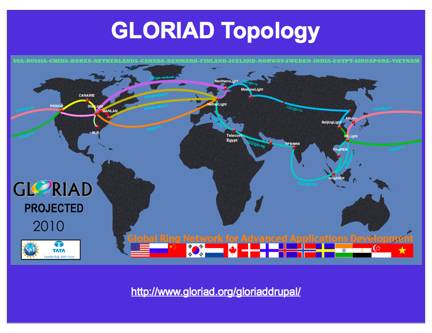 <![endif]>
<http://tinyurl.com/68u2h43>
Along our Global Early Warning System (GEWS) project <http://tinyurl.com/3y3gzup>, we are also advocating to have Japan, Bangladesh, Spain and African countries to join in GLORIAD.

(4) As you know, we are advocating to deploy ultra high speed optical fiber net along the super highway which is to be constructed with the US$4 billion, which was pledged by the Japanese government at the TICAD-IV in Yokohama in 2008 <http://www.mofa.go.jp/index.html>, which you attended.

(5) This is to conduct Global Collaborative Environmental Peace Gaming (GCEPG) of our GEWS Project;
<![if !vml]>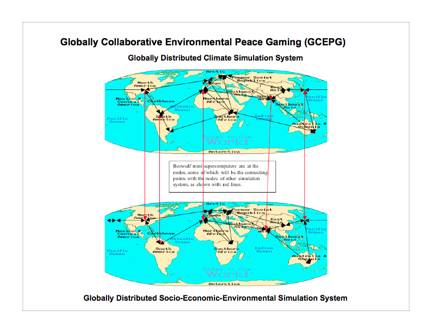 <![endif]>
<http://tinyurl.com/4xwac2a>

Best, Tak
---
ATTACHMENT I

From: UbuntuNet Alliance <info@ubuntunet.net>
Date: Wed, 11 May 2011 12:19:35 +0200
To: <nuance@lists.ubuntunet.net>
Subject: Press Release: AfricaConnect
Africa-Europe research collaboration to be transformed by EC-funded research infrastructure
Boost for African research as European Commission injects Ř14.75M into regional research and education connectivity

Gaborone, Botswana, and Cambridge, UK, 11 May 2011: DANTE, the international research network operator, and the European Commission's EuropeAid Cooperation Office today announce the signature of a Ř14.75M contract for support to a sub-Saharan African intra-regional research networking infrastructure which is already interconnected to the pan-European research network, GÉANT. Eighty percent of the project's funding will come from the European Commission's EuropeAid Co-operation Office, and the remainder will be contributed by the African partners in the project.

The contract represents a significant injection of capital to develop research networking infrastructure across sub-Saharan Africa and with Europe. The initiative will dramatically accelerate the development of the Information Society in Africa, providing advanced data communications infrastructure and enabling African researchers to collaborate more easily in advanced international research projects.

Within the framework of the Africa Caribbean Pacific Islands (ACP) programme, the AfricaConnect project will establish a high-capacity Internet network for research and education in Southern and Eastern Africa to provide the region with a gateway to global research collaboration, the objective of which is to overcome the current limitations of international research collaboration within sub-Saharan Africa and towards Europe, and to foster research and education collaboration and advancement within and between these regions.

The project will be strongly collaborative, so whilst DANTE will coordinate AfricaConnect, they will be partnered by DANTE's regional counterpart organisations in Africa – UbuntuNet Alliance covering Eastern and Southern Africa, and WACREN covering Western and Central Africa – as well as the Association of African Universities; existing National Research and Education Networks (NRENs) in Africa (DRC, Ethiopia, Kenya, Malawi, Mozambique, Namibia, Rwanda, Somalia, Sudan, South Africa, Tanzania, Uganda and Zambia); and several European NRENs (Germany, Ireland, Italy, the Netherlands, Portugal and the UK). All will work to ensure that the project benefits all of sub-Saharan Africa.

"We are delighted to see this project underway," said Cathrin Stöver, DANTE's International Relations Manager. "DANTE has a strong history of supporting regional connectivity including actions in South America and Asia, and we will build on this experience to support African research and education networks as together they transform the research environment in Africa. DANTE always puts the emphasis on partnership in this kind of activity, and we are therefore excited to be working with such a strong group of partners on a project of this importance."

Eng. Dr Francis Tusubira, CEO of the UbuntuNet Alliance agrees: "For the Alliance, this support is invaluable, since our challenges run from the macro-challenge of establishing regional connectivity in a geographical area that could contain the whole of Europe several times over, to the comparative micro-challenge of ensuring that each NREN has the human capacity to set up and operate their national network. Achievement of the impossible is our mantra, and we appreciate the support of the European Commission in this respect - their funding makes the achievement of the impossible a whole lot easier!"

DANTE will soon announce an international tender for the connectivity and equipment required for the AfricaConnect project. The infrastructure is expected to be operational by early 2012.

The AfricaConnect project is expected to last for four years, after which time the African Project Partners of AfricaConnect will ensure the sustainability of the intra-regional African research network and its direct connection to GÉANT.

About DANTE

DANTE is a non-profit organisation, coordinator of large-scale projects co-funded by the European Commission, and working in partnership with European National Research and Education Networks (NRENs) to plan, build and operate advanced networks for research and education. Established in 1993, DANTE has been fundamental to the success of pan-European research and education networking. DANTE has built and operates GÉANT, which provides the data communications infrastructure essential to the success of many research projects in Europe. DANTE is involved in worldwide initiatives to interconnect countries in the other regions to one another and to GÉANT. DANTE currently manages projects focussed on the Mediterranean, Asia-Pacific and central Asia regions through the EUMEDCONNECT, TEIN and CAREN projects respectively. For more information, visit www.dante.net. <http://www.dante.net./>

About the UbuntuNet Alliance

UbuntuNet Alliance is, at both the conceptual and implementation levels, a commitment and movement by member NRENs to unlocking Africa's intellectual potential by ensuring that African Researchers and Educators achieve equity with the rest of the world in terms of ease and cost of access to the global information Infrastructure as well as opportunities for research collaboration . The UbuntuNet Alliance was established in 2005 and registered in 2006 as a not-for-profit regional association of NRENs in Eastern and Southern Africa and currently has 13 members.

In January 2009, UbuntuNet Alliance established a 1Gb/s IP interconnection with the GEANT network in London. This connection has recently been upgraded as fibre has become available, prices drop and demands from NRENs increase, The upgrade includes a 10Gb/s IP connection to GEANT and a new 10-Gbps link for dedicated point-to-point connectivity, making Sub-Saharan Africa the first world region outside North America to gain dedicated circuit capacity with Europe. Therefore, the AfricaConnect project builds on a proven relationship between Europe and sub Sahara Africa.
---
_______________________________________________
NUANCE mailing list
NUANCE@lists.ubuntunet.net
http://lists.ubuntunet.net/listinfo/nuance
---
*******************************************************************************
* Takeshi Utsumi, Ph.D., P.E., Chairman, GLOSAS/USA *
* (GLObal Systems Analysis and Simulation Association in the U.S.A.) *
* Laureate of Lord Perry Award for Excellence in Distance Education *
* Founder and V.P. for Technology and Coordination of *
* Global University System (GUS) *
* 43-23 Colden Street, #9L, Flushing, NY 11355-5913, U.S.A. *
* Tel: 718-939-0928; Skype: utsumi *
* Email: takutsumi0@gmail.com *
* Web: http://www.friends-partners.org/GLOSAS/ *
* U.S./IRS Employer ID: 11-2999676 <http://tinyurl.com/534gxc> *
* New York State Tax Exempt ID: 217837 <http://tinyurl.com/47wqbo> *
*******************************************************************************